Thursday, October 25, 2018
4:00 pm – 6:00 pm
Larimer SBDC – Rocky Mountain Innosphere
320 E. Vine Drive;
Fort Collins, CO 80524 (Map It!)
Are you seeking funding for your small business but are unsure of where to begin? With all the options available for small businesses today, it's normal to feel overwhelmed! The Larimer SBDC is bringing together several types of funding sources for you to ask questions and get answers.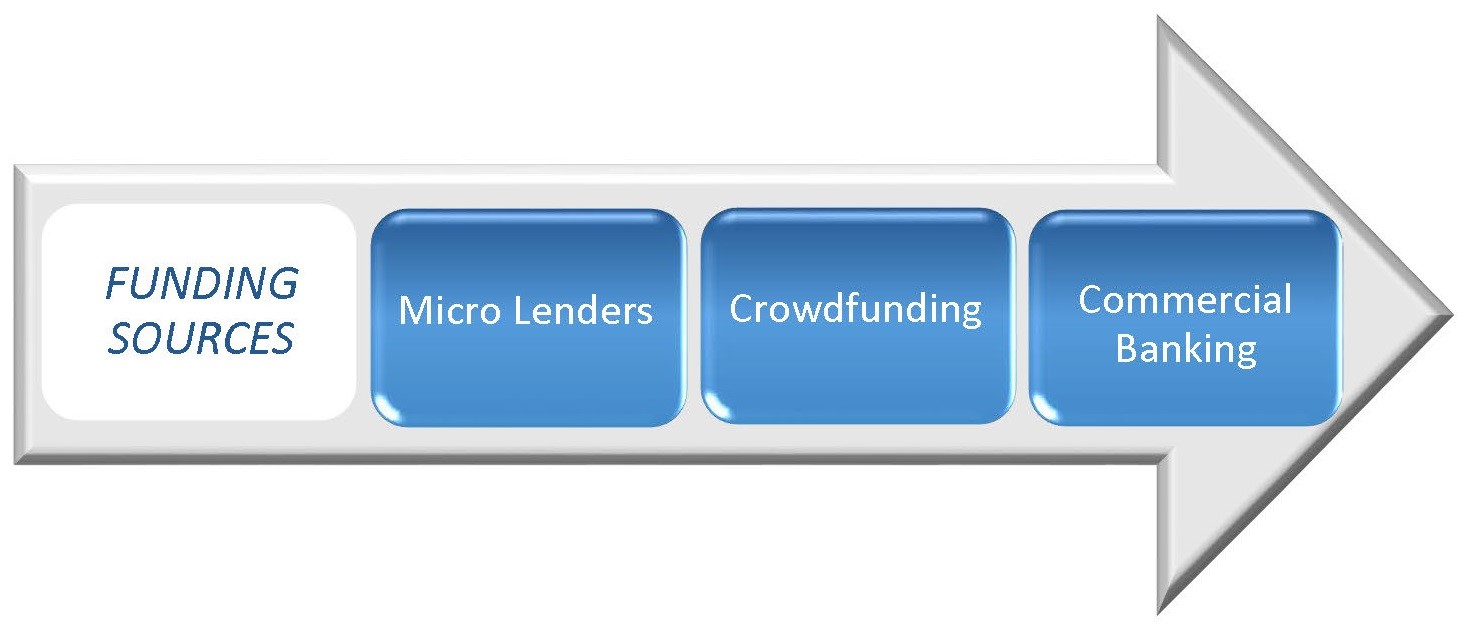 In this unique event, we will have representatives from each of the categories above do a short introduction of their funding source. After this short introduction, there will be a speed-dating style format so you can determine the right source for you. Come prepared with your questions and get answers directly from the funding experts!
Our Moderator:
Mike O'Connell
SBDC Director
Mike earned a business degree from Pursue University, and worked in a variety of executive sales, marketing, and business-unit management positions. He purchased Mountain Woods Furniture (MWF), a leading national manufacturer of rustic hand-crafted furniture, and operated that business until its' sale in December 2011. MWF's products were sold through Cabela's, national furniture e-tailers, furniture stores, and to resorts and lodges. He provided over 6,000 paychecks to American manufacturing workers during his ownership of MWF.
Our Panelists:
Brittany Brown
1st National Bank
As a Sr. Advisor in Business Banking, Brittany has experience managing and advising a range of businesses. She has a focus for start-up companies and companies with 50 employees or less. She has a demonstrated history of working in the banking industry and believes in providing valuable customer service and being an accessible resource for her clients. She is skilled in portfolio management with emphasis on business and financial analysis. Brittany moved to Colorado in 2009 and enjoys horseback riding and spending time with her family outdoors in the beautiful Northern Colorado communities.
John Berkhausen
Cache Bank & Trust
John Berkhausen has been a banker since 2007 and has been with Cache Bank & Trust since 2013. He has served in multiple roles with Cache Bank & Trust and is currently Regional President overseeing all facets of the Larimer County Market including loans and deposits, cash management, credit, the market's P&L, operations, human resources, and building management. Within Cache Bank & Trust, John is a member of the Bank's Executive Committee and Loan Committee.John grew up in Southern California, attended Boston College for his undergraduate studies, and graduated from Creighton University in Omaha, Nebraska, with his Juris Doctorate and Masters of Business Administration. John is an active member of the community sitting on the St. Joseph Catholic Church Finance Council, participating in the United Way of Larimer County Business Cares program, and working with the Next Generation of Bank Leaders Board of Directors for the Independent Bankers of Colorado. He was a 2013 Coloradoan Featured Young Professional, a 2014 recipient of the BizWest 40 Under Forty Award, a past member of the United Way of Larimer County Board of Directors, and loves being outdoors in his spare time. Most importantly, John is the father of four daughters (yes, you read that right) and has been married to his wife Cristin for 13 years.
Lewis Hagler
Colorado Enterprise Fund
As Director of Credit Quality, Lewis monitors portfolio and credit quality. He also manages our Northern Colorado lending activity including consulting with potential applicants about their business plans, performing credit analysis and loan underwriting, and providing ongoing business advisory services to borrowers. Prior to joining CEF in 1994, Lewis was the Director of the Small Business Development Center in Boulder. He is an entrepreneur with over 30 years of experience owning and operating a variety of successful business ventures with special knowledge of the restaurant and food service industry.
Gwen Bonilla
Accion
Gwendolyn Bonilla is a Regional Loan Officer for Accion in Colorado. She is a Colorado Native and for over seven years with Accion, has helped entrepreneurs across the state access loans to finance their existing and start-up businesses. Gwen graduated as a Bachelor of Arts from the University of Colorado at Boulder and has a Master of Business Administration from the University of Colorado – Denver. She is fluent in English and Spanish. When not at the office, you may find her and her husband taking advantage of Colorado's awesome recreation centers and splash parks with their two young children, Makayla and Nathan, and chasing their yellow Labrador-mix puppies.
Paul Watkins
Guaranty Bank
Paul Watkins joined Guaranty Bank and Trust in 2015 with over 15 years of experience in the area of commercial lending. As a commercial lender, Paul works with Colorado business owners, non-profits, municipalities and high net worth individuals to help them continue their path of financial success. Paul's primary role at Guaranty Bank and Trust is to learn about his customer's goals, understand the most in-depth details about their business and assist them in securing commercial loans. Additionally, he educates his customers on Guaranty Bank and Trust's services that will help them meet both their short-term and long-term objectives through increased efficiencies, improved cash flow, and reduced risk.
Paul has a deep passion for Northern Colorado, as
a 5th generation Colorado native and graduate of UNC's Monfort
College of Business.
Ben Mozer
The Lyric Cinema
Ben Mozer was born and raised in Fort Collins. He started The Lyric Cinema in 2007 and helped his wife, Elizabeth, start LoCo Food Distribution in 2011. Ben will be survived by two sons, Bailey and Jack.
In 2017 Ben ran a successful Kickstarter campaign. This helped The Lyric Cinema purchase (digital) projectors which were instrumental in keeping the doors open.